Congratulations – you are building a cleanroom. The purpose of this blog is to help you choose between a modular cleanroom and softwall cleanroom.
What is a modular cleanroom?
A modular cleanroom is a cleanroom built from prefabricated modular walls, roof deck, HEPA fan filters units that is then assembled on-site. The modular cleanroom walls are hard walls made with melamine, FRP or painted aluminum skins on a honeycomb core.
What is a softwall cleanroom?
A softwall cleanroom uses clear vinyl curtains hung from painted steel or aluminum frame with HEPA fan filter units mounted on top. For smaller softwall cleanrooms it is not uncommon for the cleanroom to be mounted on casters so it can be moved around.
Advantages of modular cleanroom
Cleanliness / Particle control: Modular cleanrooms rigid walls allow cleanroom to maintain positive pressure vs. outside the cleanroom. This prevents dirt from entering the cleanroom even when a door is opened. Softwall cleanrooms the air flows under the vinyl curtain to outside of room so no positive pressure is available. The modular cleanroom is typically recirculating design the clean cleanroom air is return to plenum and pass thru the HEPA fan filter units repeatedly cleaning the already clean air. Softwall cleanrooms are one pass so they are always filtering dirty outside air. The combination of positive pressure and recirculating design means a modular cleanroom will be cleaner than a similar softwall cleanroom.
Air conditioning: Modular cleanrooms are typically recirculating design which allows air conditioning and humidity control to be incorporated. Softwall cleanrooms can only be one pass design so they cannot incorporate air conditioning. Without air conditioning working in a cleanroom can be very uncomfortable as workers wear cleanroom garments over their street clothes.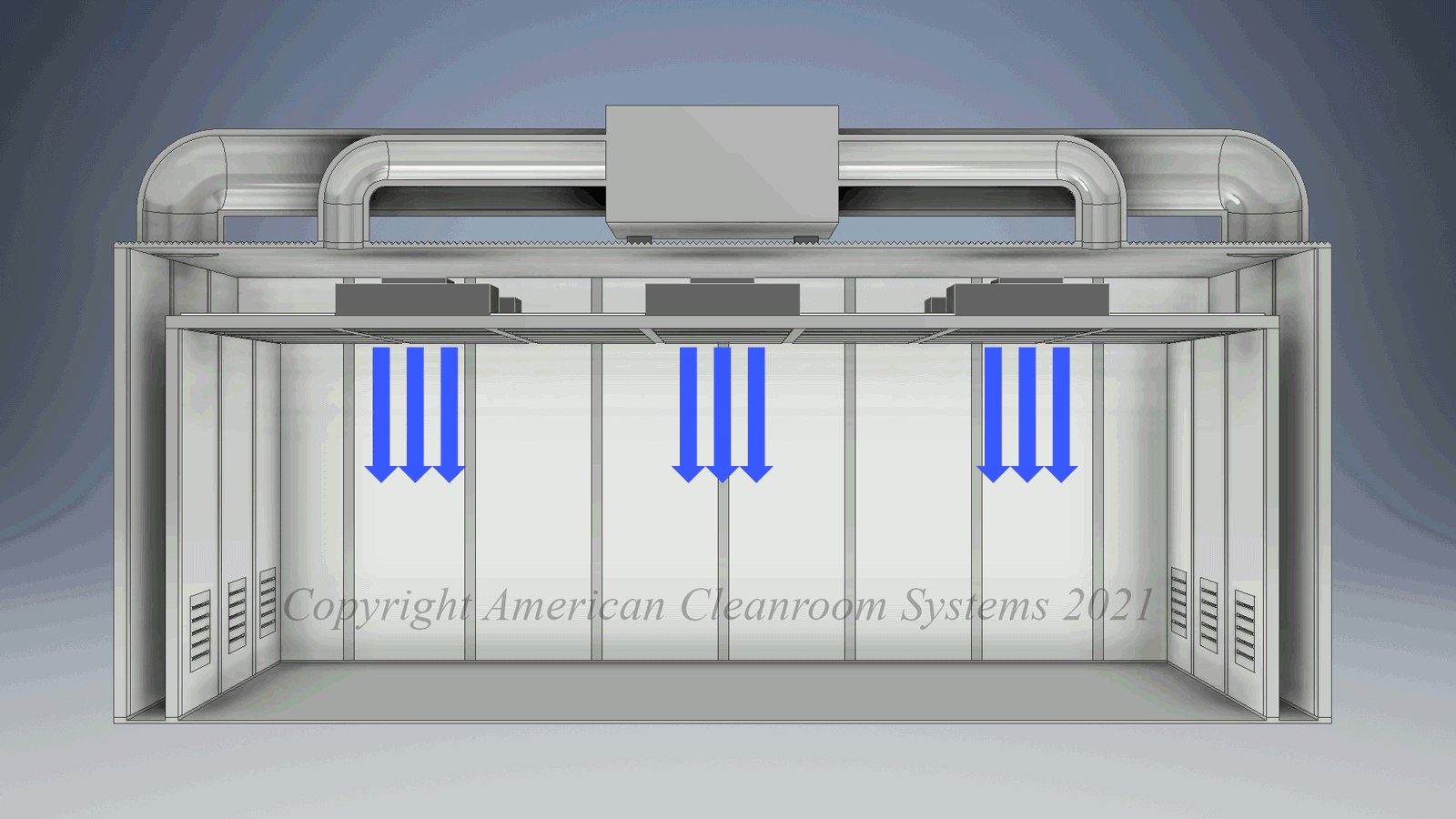 Wipe down: Modular cleanroom walls can be cleaned with antimicrobial or standard cleaning solutions. The clear vinyl walls used on softwall cleanrooms hangs like a shower curtain and is very difficult to clean. When powders or liquids are processed in a cleanroom, frequent cleaning of walls is necessary.  Modular cleanrooms are best for this scenario.
Future modifications or expansion: Modular cleanrooms are easily expanded by adding more modular walls, HEPA fan filter units etc. The components are like LEGO pieces so it is easy to add an additional room to an existing cleanroom. Softwall cleanrooms do not have this flexibility.
Similar Cost: typical cost of same size and cleanroom classification modular cleanroom and softwall cleanrooms are comparable.
Advantages of softwall cleanrooms
Easy Assembly: softwall cleanrooms are typically shipped material only and assembled by customer MRO staff. Since softwall cleanrooms often utilize long extensions cords to power the HEPA fan filter units and lights they do not require an electrician for installation.
Mobility: Smaller softwall cleanrooms are often mounted on casters so they can be easily rolled around. Once a softwall cleanroom gets bigger than 10'x10' the weight makes it difficult to move even with customers.
Temporary: Softwall cleanroom are often used when customer only needs a small cleanroom for couple months. They can be easily assembled, used, then stored away for later need.
Building permits: Depending on the specific circumstances sometimes customer is required to get building permits for their modular cleanrooms. Since softwall cleanrooms are temporary tent like structures building permits are typically not utilized.
Why American Cleanroom Systems
American Cleanroom Systems has been building quality modular cleanrooms and softwall cleanrooms since 1976.  We specialize in Design Build Cleanrooms. Our staff has more than 150 years combined cleanroom experience. Our blue-chip customer list includes Allergan, Baxter, Johnson & Johnson, Regeneron, NASA, Los Alamos National Labs, Oak Ridge National Lab, Apple, Boeing, Intel, Lockheed Martin and Raytheon. From ISO5-ISO8, class 100-100k, with temperature, humidity and ESD control, American Cleanroom Systems is your Design Build cleanroom expert. We manufacture our modular cleanrooms and softwall cleanrooms in Rancho Santa Margarita CA and install them nationally.  Quotes in 48 hours.  949-589-5656. www.americancleanrooms.com
Copyright 2022 American Cleanroom Systems®